Europe's 100 Most Dynamic Companies
Wednesday, 01 February 2012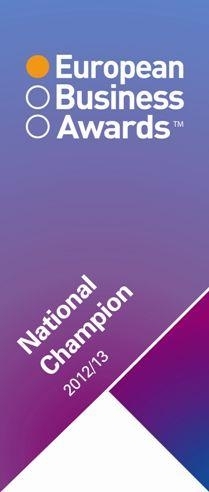 P&P Ice Cream has been selected as a highly-coveted Ruban d'Honneur recipient in the Innovation Award to represent Cyprus as one of the final 100 businesses in the 2012/13 Awards programme and will now go on to compete in the final round of the competition, in a bid to become one of the ten overall winners to be announced at a gala event in June 2013.
Since 2007, the European Business Awards has been shining a light on the most innovative businesses on the continent by promoting success, innovation and ethics in the European business community.
In 2011, the EBAs engaged with over 15,000 organisations in over 30 countries showcasing the best in class, the winners from a diverse range of industries including cosmetics, engineering, fashion, online businesses, manufacturing and transport were congratulated by an audience comprising heads of state, leading industrialists, entrepreneurs, business leaders, media owners and academics from across 30 European nations.
Over the past two months, an esteemed panel of judges made up of European business leaders, academics and entrepreneurs has assessed the 200 companies that made it through to the National Champions stage of the awards. From these, 100 businesses from 28 countries across Europe have been chosen as Ruban d'Honneur recipients. They have been picked for their business accomplishments as well as their dynamism, focus and ethical standards. Each of the National Champions was judged in one of ten individual award categories covering Innovation, Growth Strategy, Environmental & Corporate Sustainability, Customer Focus, Employer of the Year, Entrepreneur of the Year, Import/Export and  Business of the Year [t/o €0-25m], [t/o €150m+] and [t/o €26-150m].
Intensive face-to-face interview sessions with the judging panels took place in order to announce the ten overall category winners.  This year, for the first time, entrants in the European Business Awards submitted a video case study as part of the judging process. All case studies were uploaded onto the European Business Awards website and an online public voting mechanism was introduced.
Adrian Tripp, CEO of the European Business Awards says, "The video element of the 2012/13 awards has allowed our panel of expert judges to gain a much deeper understanding of all entrants' business strategies. This has helped the judges make clear and informed decisions about the individual companies in each award category. The face-to-face interviews will now drill down even further into the aims and attitudes of each company, before the judges decide on ten companies as the overall winners."
Over 35,000 votes were cast during the six week public voting period and the European Business Awards' website had over 100,000 unique visitors. The website has become a leading online resource for anyone interested in business across Europe.